| | |
| --- | --- |
| | Striving to be the best, not the biggest! |
Sale 66
Lot 2019


/

/o

British Commonwealth Extensive Intact Collection to 1990, In 21 Scott specialty albums, all countries represented (except Canada and Provinces) to 1990 (some countries only to 1970's -80's period), some classics mostly used through 1920's, mint and used after that with later n.h., many complete sets to £1 values throughout, plus Back of the Book, missing rarer material, but quite extensive, 19th Century mixed condition, 20th mostly fine to very fine. Owners (2004) cat. $172,000.
Estimate $25,000-30,000.


Realized $44,850
---
Lot 2161



French Colonies Massive Mint Collection, Thousands mounted in 6 Scott specialty albums (separate lots for Offices in China and Levant), plus extra pages, few scattered used, virtually all long definitive sets present and complete, modern issues from Andorra, St. Pierre, French Polynesia and Wallis & Futuna (many n.h.), classics including many $100 to $200 catalog items (some more), virtually all Vichy issues, many not listed in Scotts, plus varieties, souvenir sheets, Back of the Book, etc., a few with minor faults as to be expected, but overall a fresh and fine to very fine collection, only needing the scarcest items for completion, must be seen to be appreciated, the finest collection of this area we have offered.
Estimate $25,000-30,000.


Realized $37,950
---
Lot 1536

/o

U.S. Extensive Collection in National Album, Several hundred to 1934, 19th Century used including #9X1, 1, 3 (unused), 1851's to 12¢ including #8A, 13, 1857's to 90¢ including 19, 21, 22, 27, 28A, 31, 34, 36, 37 (39 is unused), 1861's to 90¢ including 62B, 67, 75, Grills to 90¢ with scarce 79, 83, 84-85, 85B, 85E, 1869's to 30¢ with 120, Reissues 127, 133, extensive Bank Notes to 90¢ with 138, 141, 143, 1890 set complete mint or used, Columbians complete mint to $3 (no $1, $2 used), 1894 to $5 mint or used, 1895 complete to $5 (1¢ to 15¢ mint, balance used), Trans-Mississippi to $2 mint or used (no $1), 1902-03 complete mint or used, 369 mint, extensive mint Washington-Franklins including many coil pairs, noted 374-82, 424-39, 462-76 (including 467), 500 (used) and 505, later with 595 used, Kansas-Nebraska sets mint, Airs complete mint (C18 used), Special Delivery complete mint or used, Dues including J16 used, J27, J30, J31-36 and J44 mint, Offices in China complete mint, extensive mostly mint Officials (only missing 12 values for completion), powerful mint Newspaper including PR24-25, PR27, PR31, PR68, PR81-89, PR96, PR107, PR110, most key items (19th Century, Officials and Newspaper) have certificates, mixed condition, but many attractive copies, a very high catalog collection that deserves a close look.
Estimate $25,000-30,000.


Realized $29,900
---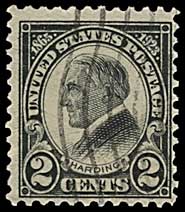 Lot 396

o

U.S. 1923, 2¢ Harding, Rotary, the Rare Perf 11, #613, Used, trivial perforation scuff at bottom left, design clear of perforations, a fresh and lovely copy of this 20th Century U.S. rarity. PSE (2005) cert. Cat. $42,500 Previously unrecorded, bringing the current census to 45 copies (41 singles and 2 pairs), of those recorded only 23 are sound.
Estimate $15,000-20,000.


Realized $28,750
---
Lot 2103




China (People's Republic) Complete Never Hinged Collection to 1992, On Fidelity album pages or stockpages, missing only #95-100, 999a and a few booklet panes, including all reprints, Northeast China including reprints, all Back of the Book including #M1-2, also including most varieties with roulettes, all miniature and souvenir sheets, imperforates including #620a-27a marginal singles and other marginal sets, #278a, missing colors, most strips unfolded, fabulous lot that requires only a few items to complete this country, overall very fine. Cat. (2005) $37,000+.
Estimate $21,000-23,000.


Realized $24,150
---
Lot 2431


/

/o

Foreign Extensive Collection in 19 Albums, Mint and used, mostly Scott specialties, but also Minkus, areas separate albums are France, Portugal, Italy, Netherlands and their respective Colonies and Japan, strength in Germany with Colonies, Spain and Colonies, Monaco, all countries well represented in 19th and 20th Century with many complete sets, later period n.h. to o.g., Back of the Book, etc., 19th Century mixed condition, 20th generally fine to very fine. Owners (2004) cat. $151,000.
Estimate $20,000-22,000.


Realized $19,550
---
Lot 1538


/

/o

U.S. Mint and Used Three Volume Collection to 1989, 1847 on with earlies mostly used including #1-2, 14, 17, 18, 21, 29, 1861-62 to 90¢, 1867 Grills including "E" complete, "F" including 24¢, 30¢, 90¢, 1869 to 90¢ (unused), Columbians complete mint or used, Trans-Mississippi complete (high values used), 1902-03 complete, 1904, 1907 issue complete, #369, mostly mint after that including decent Washington-Franklins, Airs complete mint except #C13-15, Special Delivery virtually complete mint, some Dues and Officials (mostly used), Back of the Book with reasonable Revenues, Ducks complete (most earlies used), also Possessions, 19th Century mixed condition, 20th generally fine to very fine. Owners (2004) cat. $100,000.
Estimate $8,000-10,000.


Realized $18,400
---
Lot 2557



Worldwide Massive Commercial Mail Lot, Many thousands in 23 banker boxes, shows all adhesive periods to fairly recent, most countries represented, everything is in here from common to fairly rare, a few stampless, completely unpicked and accumulated by part time Northern California dealer over decades, only did a couple of small local shows a year with only a tiny portion of his stock, virtually all of this has never been offered, needs very thorough inspection as better batches of material hidden everywhere, great lot for the worldwide cover dealer. Lot still being broken down at press time. Same owner as the massive U.S. commercial lot.
Estimate $10,000-12,000.


Realized $16,100
---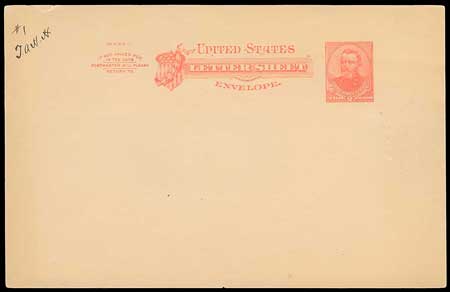 Lot 622



U.S. Lettersheet, 1886, 2¢ Grant, Trial Color Proofs, #U293TC, #1-19 in different colors on large pieces of manilla paper, all initialed top left corner by T.A.W.H(agen), first few with staple indentations that slowly disappear through the various items, very rare and very fresh. Undersander #E850 A-S cat. $4750.
Estimate $1,500-2,000.


Realized $13,800
---
Lot 2162


/

/o

French Colonies Four Volume Collection, Mint and used in Scott specialty albums, starts with Algeria virtually complete mint to 1957, also Semi-postals, Airs, followed by Offices reasonably full mint and used, Colonies General issues with #1-6, 7, 9, 12-15, etc., Dues virtually complete mint, no French Andorra, otherwise all other Colonies well represented (some to 1960's), Guiana virtually complete, Polynesia to 1971, F.S.A.T. to 1960's with n.h., Senegal virtually complete mint, etc., a much above average collection with many complete sets and fresh throughout, needs inspection. Owners (2004) cat. $40800.
Estimate $8,000-9,000.


Realized $12,650
---
---

Harmer-Schau Auction Galleries, Inc.
1333 North McDowell Blvd., Suite B • Petaluma, California 94954
Tel: 707-778-6454 • Fax: 707-763-6772 • Toll Free 800-378-6454
E-mail: info@harmerschau.com