| | |
| --- | --- |
| | Striving to be the best, not the biggest! |
Sale 122
Lot 309

o

1851, Queen Victoria, 12d black, laid paper, #3, major re-entry and cracked plate variety, used but with unused appearance, Greene cert states "cancellation removed, extensive repair on right side, part of design painted on", attractive copy with strong laid lines, considered a unique example. Ex Foxbridge, illustrated in Robson Lowe's Encyclopedia of British Empire Stamps on page 159. 1997 Greene Foundation cert.
Yvert #Canad.
Scott $135,000. Canada's most famous rarity, unique example of the re-entry .
Estimate $18,000-22,000.


Realized $23,000
---
Lot 1052



U.S., Newspaper, 1894, 60¢ Pink, #PR98, Full o.g., "vertical crease at left and tiny shallow thin top right", usual centering, decent color, Fine for the issue, 2016 P.S.E. cert.
Scott $40,000. 17 unused and 4 used per Siegel census, only two potentially sound, this copy is not in the census so 18th copy (?) .
Estimate $10,000-12,000.


Realized $8,050
---
Lot 59




China (People's Republic), 1962, Mei Lan-Fang Souvenir Sheet, #628, n.h., few fingerprints on gum, but sharp corners and bold bright surface, a little darker gum overall, overall Very Fine.
Scott $18,500 (for some faults). Only 20,000 issued .
Estimate $8,500-10,000.


Realized $10,925
---
Lot 724

o

U.S., General Issues, 1869, 24¢ Green & Violet, Center Inverted, #120b, "Odd cork cancel and part cds, small sealed tear at top left", otherwise sound, better than normal cancellation, reasonable centering, Fine to Very Fine for this. Ex Siegel 1965 Rarity auction, census #120b-CAN-NE03. 2020 P.S.E. cert.
Scott $37,500. Most copies are faulty .
Estimate $8,000-10,000.


Realized $16,675
---
Lot 698

P

U.S., General Issues, 1869, 15¢-90¢ Pictorials Complete, Centers Inverted, Plate Proofs on Card, #120aP4-129aP4, complete set in matching sheet margin singles, fresh, very fine and choice. Ex Berlin, realized $13,500 in 2007 auction.
Scott $16,250.
Estimate $7,500-9,000.


Realized $9,775
---
Lot 432

o

New Zealand, 1855, Queen Victoria "Chalon Head", 1d Dull Carmine, SG #1, London printing, Large Star watermark, light face-free barred oval cancel, vivid color, large margins on three sides, in at lower right, fine to very fine. Ex "DuBois", realized $10,500 in 2007 auction. 1994, 2020 RPSNZ certs.
Scott #1 $20,000. Campbell Paterson #A1a.
SG £20,000. Rare .
Estimate $6,000-8,000.


Realized $7,475
---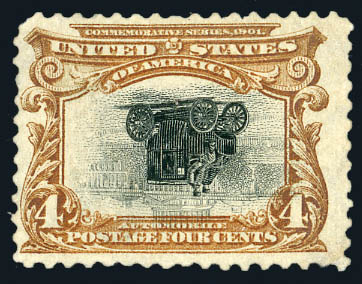 Lot 854

(

)

U.S., General Issues, 1901, Pan-American, 4¢ Deep Red Brown & Black, Center Inverted, #296a, regummed, "covering a thin spot, reperfed at left and a small repaired tear", attractive Very Fine appearance. The 4c Pan-American Invert was a special printing and not regularly issued. Examples were distributed through two official channels, and the gum on the majority of stamps without "Specimen" overprint was disturbed. In fact, because 97 of the stamps were removed from an album page, they are generally thinned or have seriously disturbed or no gum. 1987 P.F. cert.
Scott $85,000.
Estimate $6,000-8,000.


Realized $10,350
---
Lot 2055


/

/o

Worldwide Collections, Valuable Worldwide Dealer's Stock, impressive group of hundreds of U.S. and Foreign (almost all areas represented), mainly mint higher priced items with nice fine used whenever present, there are no faulty classics to be found here, many of the mint are n.h., close inspection highly recommended, a huge total aggregate cat. value in this lot with many surprises and interesting materials, excellent lot ready for immediate resale, Fine to Very Fine lot.
Estimate $30,000-35,000.


Realized $25,300
---
Lot 1795




China (People's Republic), Excellent Never Hinged Collection, n.h., a beautiful clean collection in 2 Minkus albums, appears complete from 1953-1999 (with some earlier present) except for #628a, 798a, and 999A, it contains the better souvenir sheets and sets incl. a solid section of the Cultural Revolution period (Mao strips, poems, etc.), also booklets, a very high quality collection from this popular area, very fine.
Estimate $17,000-22,000.


Realized $37,375
---
Lot 1404

o

U.S. Revenue Collections, Collection of 1st Issue Revenues With Railroad Cancels, magnificent collection contains 575 singles and multiples incl. 29 larger strips or blocks of 4, also incl. 62 railroad documents, 13 of which are stock certificates, over 175 different railroads from 1862 to 1871, several high value stamps in the collection with #R98c and R102c, all identified by Shellabear/Tolman cancel numbers and it has many of the listing copies in that work in this collection, also incl. is stockbook containing over 200 additional cancels identified by Tolman numbers, Very Fine and attractive. Formed by cancel collector Michael Morrisey. Many of the adhesives have the finest known strikes of their respective cancels and some unlisted in Talman, unique opportunity to greatly expand or upgrade an existing railroad collection .
Estimate $13,000-15,000.


Realized $16,100
---
---

Harmer-Schau Auction Galleries, Inc.
1333 North McDowell Blvd., Suite B • Petaluma, California 94954
Tel: 707-778-6454 • Fax: 707-763-6772 • Toll Free 800-378-6454
E-mail: info@harmerschau.com