| | |
| --- | --- |
| | Striving to be the best, not the biggest! |
Sale 121
Lot 623

E

U.S.; General Issues, 1861, 12¢ N.B.N.C. "Premiere Gravure" Essay, in Black, #69-E6e, complete design, plate on semi-transparent stamp paper, perfed and gummed, strong impression, "small faults", Fine to Very Fine appearance, formerly #59, 2019 P.S.E. cert.
Scott $90,000. Only 16 reported with only 4 sound with o.g.
Estimate $15,000-20,000.


Realized $11,500
---
Lot 827



U.S.; General Issues, 1898, Trans-Mississippi, 8¢ Violet Brown, Imperf Horizontally, Vertical Pair, #289a, o.g., "natural straight edge at left and natural gum wrinkles in bottom stamp", gum wrinkles typical for these, lighter hinging than most (many have disturbed gum), Very Fine or better appearance. Ex Waterhouse. 2004 P.S.E. cert.
Scott $27,500. Only 25 pairs issued .
Estimate $10,000-13,000.


Realized $9,200
---
Lot 383




Canada; Newfoundland, Airmail, 1919, 3¢ Hawker Flight, #C1, o.g., sound, usual centering, fine and attractive. Countersigned "J.A.R." ms. initials at the Offices of the "Daily News" on reverse of adhesive, very similar copy realized $23,000 in our 2014 auction. Signed Bloch, etc., 1978 Royal, 1991 Holcombe certs.
SG #142.
Scott $25,000. 200 issued, 95 used and 18 destroyed by the Postmaster, so about 87 mint examples should exist .
Estimate $15,000-18,000.


Unsold
---
Lot 378



British Virgin Islands, 1861 "Paid At Tortola" Cover, SG #CC5, folded letter to Colon (Panama) with red "Paid At Tortola" (SG type CC5) cancel, "10" in red, manuscript "Paid", via St. Thomas with transit handstamps in red, fine. Never before offered at auction, similar cover and the most recent we could locate realized £17,000 (plus buyers premium) in the 2011 Chartwell sale.
Scott #A2 $22,000.
SG £22,000. 2nd most expensive "Paid At" after "Paid at Macau" in SG catalog, according to Robson Lowe there are less than 6 known, the key item for the collector of this area .
Estimate $10,000-12,000.


Unsold
---
Lot 669

o

U.S.; General Issues, 1869, 15¢ Brown & Blue, Type I, #118, lightly cancelled, perfect margins, one of a kind, 2003 P.F., 2009 P.S.E. cert graded SUP 98.
SMQ $12,000, only recorded grade 98 with only one higher grade 100 .
Estimate $9,000-10,000.


Realized $11,500
---
Lot 915




U.S.; General Issues, 1911, 3¢ Deep Violet, Horizontal Coil, Line Pair, #394, n.h., deep rich color and proof-like impression, perfectly centered horizontally and vertically, Superb Gem. Ex Hanover. 2009 P.S.E. cert. graded Gem 100.
SMQ $12,500, only example known .
Estimate $8,000-10,000.


Realized $9,775
---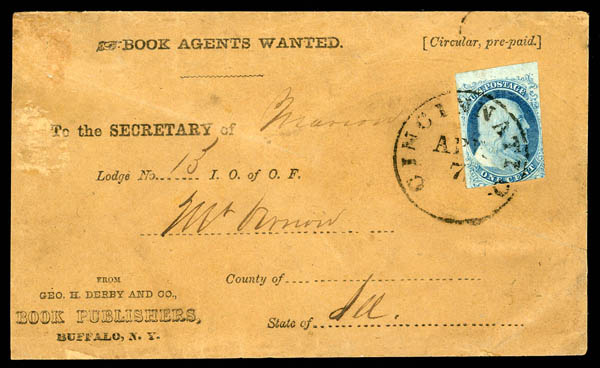 Lot 532



U.S.; General Issues, 1851, 1¢ Blue, Pos. 7R1E, Type I on Cover, #5, on printed return and partly printed address cover, trifle reduction at left, minor cover filing crease, very attractive usage of this extraordinarily rare classic stamp tied by Cincinnati, OH cds, to Mt. Vernon, IL, identified on back, minor cover faults not affecting adhesive not mentioned on cert. Ashbrook found only one position among 1000 entries on Plates 1E, 1L, 2, 3 and 4 that met this requirement; Pos. 7R1E. The fact that only one position met the Type I criteria is why Scott 5, a Type I imperforate stamp, is so rare. The Wagshal census of Scott 5 contains nearly 100 unduplicated records of stamps in singles and multiples, on and off cover. Therefore, #5 is the rarest of all U.S. regular issues prior to the 1868 Grills, and fewer than 20 covers survive, signed Ashbrook, Ex Siegel 1984 Rarity sale. 1990 P.F. cert.
Scott $110,000. A very rare cover .
Estimate $7,500-10,000.


Realized $20,700
---
Lot 1648


/



British Commonwealth, Extensive Intact Collection to Modern Period, originally in approximately 60+ albums all in mounts, with many mostly complete, from mostly late 1800's with many running to 2000 and later period, vast majority in complete sets, fresh throughout with Canada showing some early n.h. period, incl. inventory showing cat. value for each country, all countries represented incl. better Canada, Falklands, Hong Kong, Gibraltar, St. Helena, Papua and Papua New Guinea, New Zealand, Bahamas, Australia, also U.S. collection with classics in somewhat mixed condition, needs careful inspection, Fine to Very Fine overall. Collection was originally broken down to be sold as country lots so some countries are separated from the original albums and are in sleeves.
Estimate $40,000-50,000.


Realized $97,750
---
Lot 1649

/o

British Commonwealth, Caribbean Mostly Mint Collections, Valuable collection in 4 Palo hingeless albums with 23 different countries from the Caribbean area, generally used 19th Century (some mixed condition as usual) and mint 20th Century with extensive used dupl. to mid 1960's with many better items throughout, requiring some time to view as there are pockets of good material, Fine to Very Fine.
Estimate $20,000-25,000.


Realized $17,250
---
Lot 182



Japan, 1904-05 Intact Extensive Russo-Japanese War Collection, 700+, on old annotated pages, incl. commem. and watercolor postcards, Fieldpost and Military mail, flyers, photos, news articles, Peace Conference, European propaganda cards, extensively researched with better usages throughout, nothing removed, needs close inspection of this popular area, Very Fine overall, one of a kind collection .
Estimate $6,000-8,000.


Realized $7,188
---
---

Harmer-Schau Auction Galleries, Inc.
1333 North McDowell Blvd., Suite B • Petaluma, California 94954
Tel: 707-778-6454 • Fax: 707-763-6772 • Toll Free 800-378-6454
E-mail: info@harmerschau.com