| | |
| --- | --- |
| | Striving to be the best, not the biggest! |
Sale 114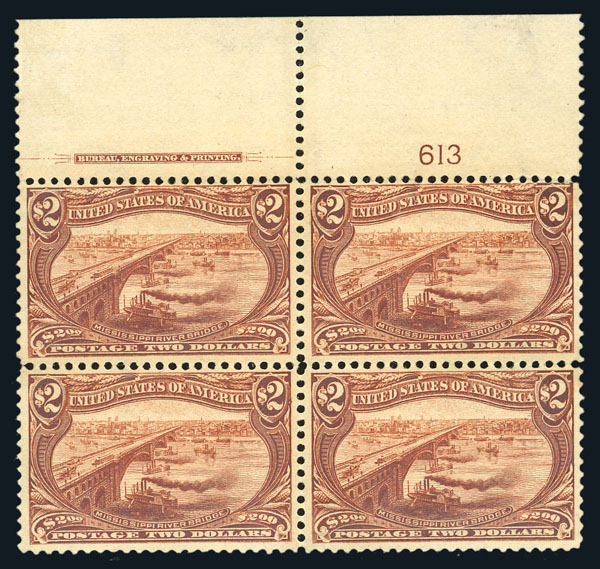 Lot 838



U.S.; General Issues, 1898, Trans-Mississippi, $2 Orange Brown, Top Imprint Plate Block of 4, #293, #613 with large top, very l.h. at top and "right two stamps with perfs reinforced at the right….bottom left stamp never hinged", very well centered for the $2 and lovely color. One of the better centered pl. blocks, Very Fine and very rare. No record of this plate block being offered in any auction in many decades.
Scott $100,000. There are perhaps three imprint and plate number blocks of six in existence. The imprint and plate number block of four format is also extremely rare, particularly from the top position.
Estimate $50,000-60,000

The design of the $2 Trans-Mississippi depicts the Eads bridge, which spans the Mississippi River at St. Louis. The original engraving was used on the admission ticket to the Republican Convention of 1896, which nominated McKinley as candidate for president. The stamp, issued during the McKinley Administration, illustrates the natural boundary between East and West and so was appropriate for the Trans-Mississippi Issue. All of the $2 Trans-Mississippi stamps were printed in a single day's run on June 3, 1898.


Realized $48,875
---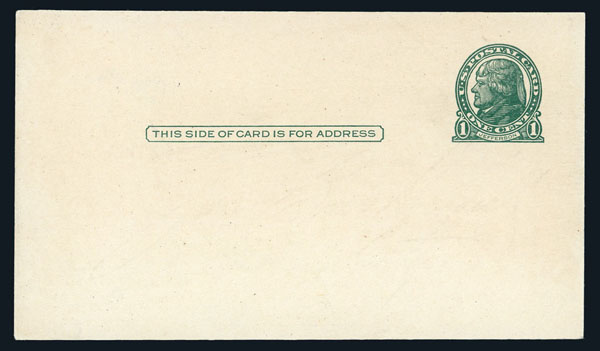 Lot 1145

/



U.S.; Postal Card, 1916, 1¢ on Rough Surfaced Card, Die II, USPCC #S39, superb example of the extremely scarce item as virtually all were preprinted, absolutely pristine. Due to wartime paper shortages the initial impressions were poor, the die was recut to improve the design, resulting in this Die II variety, proper card stock was obtained soon after the die recut was made, only in use for a month and a half.
Scott #UX27D. USPCC $20,000.
Scott $20,000. Probably less than 10 mint examples exist, the second most expensive listed Postal Card item and an important item for any advanced collector or exhibitor .
Estimate $15,000-20,000.


Realized $19,550
---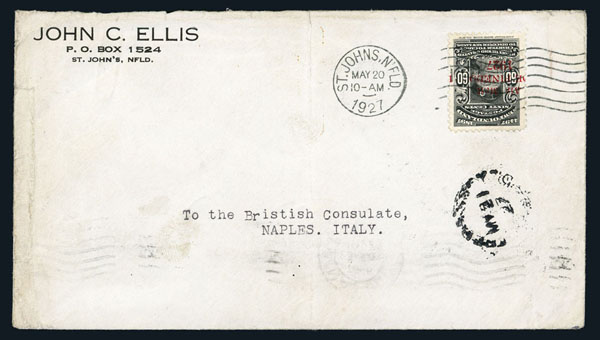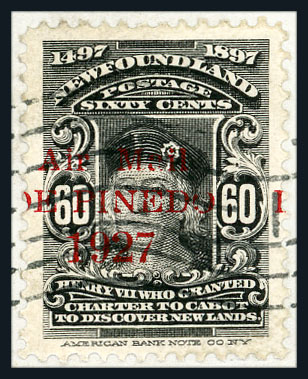 Lot 325




Canada; Newfoundland, 1927, 60¢ De Pinedo Flight Cover, #C4, Choice centering and showing horiz. shift in overprint, tied by well-struck "St. Johns, Nfld. May 20 10-AM 1927" machine cancel on cover with "John C. Ellis" corner card of St. John's, addressed to Carlo Volpi in Monza, Italy, usual blurred strike of "Trepassy Newfld MY 21, 1927" datestamp, Rome and receiving backstamps, to British Consulate in Naples, Italy, sharp vert fold in cover resulting in small split and other slight cover issues. Probably never before auctioned as it originates from a very oldtime collection.
Scott $25,000. A great Air Post rarity., only 225 De Pinedo stamps were used on flight covers, of which approximately 100 have survived .
Estimate $12,000-14,000.


Realized $13,800
---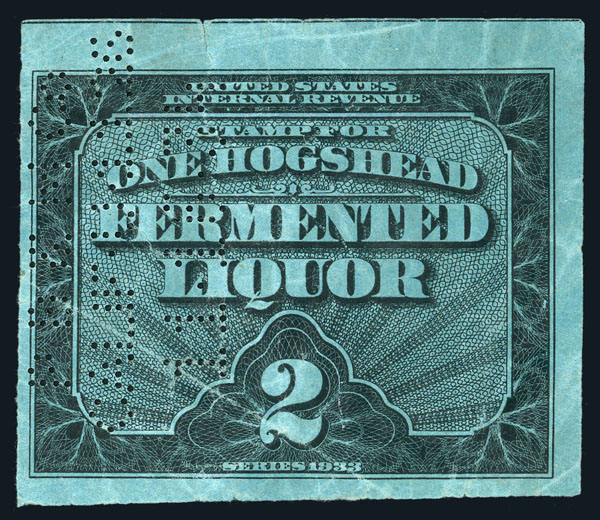 Lot 1177

o

U.S.; Revenues, Beer, 1933, 1hhd, #REA158, creases and small margin tear at top, Very Fine appearance. Another copy realized $7000 in Tolman and $8000 in Scarsdale auctions, first example of this stamp to appear at any auction in nearly ten years.
Scott $9,000. Priester recorded only 2 examples of this making it one of the rarest of all U.S. Revenues. The Tolman/Scarsdale example also had faults .
Estimate $7,000-8,000.


Unsold
---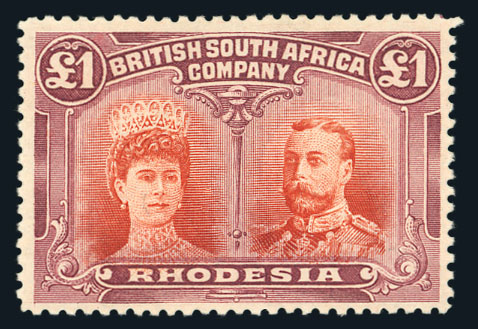 Lot 365



Rhodesia, 1910 Double Heads, £1 Scarlet & Reddish Mauve, Color Error, SG #166ab, full o.g. (no gum loss as normally seen), centered, gorgeous copy with excellent color, well centered for this, very fine and very important item for the advanced collector. This error was discovered in 1924 when Stanley Gibbons, Ltd. acquired all of the remainder of the Double Heads, and two sheets of fifty stamps of the £1 were found to be in Carmine and Reddish Mauve colors. The vast majority are centered to the bottom and/or right. The copy offered here is much better centered than normal. Also, the stamps from both sheets possess gum disturbance to some degree, with this example showing full original gum.
Scott #118d $14,500.
SG £10,000.
Estimate $7,000-9,000.


Realized $7,475
---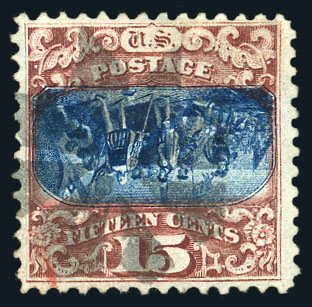 Lot 683

o

U.S.; General Issues, 1869, 15¢ Brown & Blue, Type II, Center Inverted, #119b, cork cancel leaves frame and inverted vignette clearly visible, "reperfed at the top and right", Very Fine appearance. Scott catalog states most copies are faulty, values are for fine centered examples. 2017 PSE cert.
Scott $22,500. Only 100 used and 3 unused known .
Estimate $6,000-8,000.


Realized $8,050
---
Lot 1178

o

U.S.; Revenues, Beer, 1933, 1hhd, #REA176, creases and small repair at bottom below "R" on "SERIES", key beer stamp. Similar one in 2012 Scarsdale auction brought $8000.
Scott $9,000. It is believed that there are two additional copies outside of the Priester census, for a total of five known examples of this rarity .
Estimate $5,000-6,000.


Realized $3,450
---
Lot 90

(

)

China; Taiwan, 1950, Flying Geese Complete, #1007-1011, ungummed, fresh, $20 well centered, Fine to Very Fine and attractive. Unoffered in the auction market before.
Scott $13,485. Rarely seen complete set .
Estimate $5,000-7,000.


Realized $6,038
---
Lot 291




Great Britain, 1882, QV, £5 Orange, SG #137, Never Hinged, "several vertical gum creases" (light), excellent color, well centered, Choice Very Fine, P.T.S. 2017 cert (for pair).
Scott #93 $14,000 (hinged).
SG £14,000 (hinged). , very rarely seen never hinged, from pair (see next lot) .
Estimate $5,000-7,000.


Realized $7,188
---
Lot 1003




U.S.; Airpost, 1930, Graf Zeppelin Set on FDC, #C13-C15, attractive strike of APR 19 Washington, DC and duplex cancel to Hollywood, CA, a Very Fine cover, 1996 PSE cert.
Scott $10,000.
Estimate $7,000-9,000.


Unsold
---
---

Harmer-Schau Auction Galleries, Inc.
1333 North McDowell Blvd., Suite B • Petaluma, California 94954
Tel: 707-778-6454 • Fax: 707-763-6772 • Toll Free 800-378-6454
E-mail: info@harmerschau.com