| | |
| --- | --- |
| | Striving to be the best, not the biggest! |
Sale 120
Lot 160





Italy, Airmail, 1933, 5.25L+44.75L Balbo Trans-Atlantic Return Flight, Unissued, Sassone #53, n.h., fresh colors, Fine to Very Fine and attractive, 2019 P.F. cert.
Scott #C49 var. $54,000. Sassone €67,500, very rare, only 500 issued in total .
Estimate $18,000-20,000.


Unsold
---
Lot 577


/



U.S.; General Issues, 1869, 1¢ Buff, Arrow Block of 48, #112, n.h. to o.g., approximately 21 hinged (the outer copies and two stamps from center), balance appear n.h., block is from center of sheet, as there is an arrow between the first and second rows and half arrow at the bottom, wonderfully rich color and impression; upper right copy sealed tear, balance appear sound, Fine to Very Fine.
Scott approximately $66,000. , 1987 Siegel Rarity auction, largest known block by far. According to Jon Rose in his "United States Postage Stamps of 1869", the next-largest multiple is a block of 20 .
Estimate $15,000-20,000.


Realized $11,500
---
Lot 248



Russia, 1857, First Issue Imperforate, 10k Brown & Blue, #1, Four balanced margins, "genuine unused, no opinion on the gum", rich colors (Cat. $64,000 for o.g.), signed on the back, Fine to Very Fine, 1992 Society of Russian Philately cert.
Michel #1. Zverev #1 $150,000.
Scott $21,000 (no gum price). Very rare stamp in nice condition .
Estimate $10,000-12,000.


Unsold
---
Lot 352



United States, James Buchanan Exhibit, Express Company, San Francisco Pony Express, 1861 Cover, one complete and one partial blue oval Running Pony handstamp canceling #U15, blue oval central Overland California & Pikes Peak Express Company, San Francisco, Cal., and green double ring Saint Joseph, MO. Feb. 15, before company purchase by Wells Fargo, cleaned and repaired with backflap replaced, attractive Very Fine appearance. Part of the Crittenden correspondence, complete transcript available on our web site.
Estimate $10,000-12,000.


Realized $8,625
---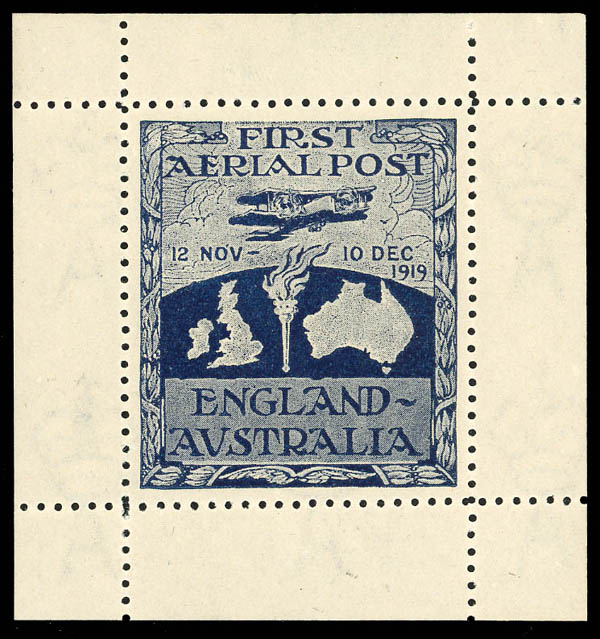 Lot 303





Australia, Airmail, 1919 Ross-Smith First Aerial Post, n.h., full sheet margins, deep rich color and detailed impression, beautiful centering, one of the nicest examples extant. On March 19, 1919, the Australian government offered a £10,000 prize to the first Australian aviator to fly from England to Australia in 30 days or less. On November 12, 1919, Ross Macpherson Smith, Keith Smith, J. M. Bennett and W. H. Shiers left London in a Vickers Vimy aircraft. They arrived in Darwin on December 10; their final destination was Melbourne, Ex 2012 Siegel Rarity auction. Total of 576 labels were made. Of these, 346 were attached to incoming mail carried on the trip. It is reported that 150 were destroyed, and that some of the 87 unused labels were presented to officials and the four crew members .
Estimate $8,500-10,000.


Realized $12,075
---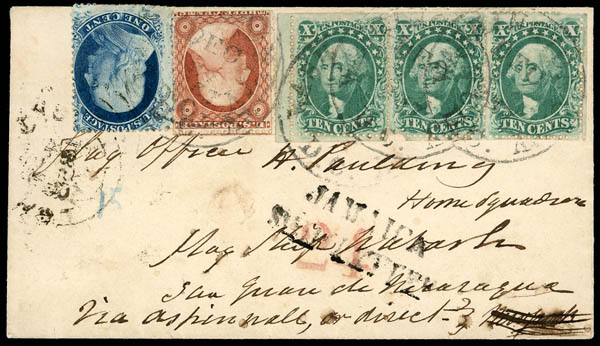 Lot 451



United States, James Buchanan Exhibit, Incoming Foreign Usages, Nicaragua, 1857 Second Walker Invasion, postmarked Washington, D.C., December 17, 1857, addressed to "Flag officer H. Pauling, Home Squadron, Flag Ship Newark, San Juan de Nicaragua, via Aspinwall, or direct", correctly franked 34¢ with 1¢, 3¢, and 10¢ (strip of 3) 1857 adhesives, red 24 handstamp, the rate being a combination of the U.S. 10¢ steamship rate to a Caribbean port plus the British 24¢ packet rate between West Indies Offices, landed first at Kingston, where two-line Jamaica/Ship Letter was struck, indicating carriage by non-contract vessel to the British Packet Agency at St. Thomas, from where it was finally dispatched to San Juan del Norte on January 6, 1856, by this time Pauling had left San Juan, so the forwarding agent added in manuscript "Forwarded from San Juan del Norte by your Obt. Svt. W. Johnson Jr.", enclosed the letter in a separate envelope and sent it on to its final destination, probably New Orleans, where Pauling had taken Walker after his capture, stamps somewhat damaged by scissors separation, still Very Fine. Ex. Grunin. Only known cover from the second Walker invasion .
Estimate $6,000-8,000.


Realized $11,500
---
Lot 52



German States; Saxony, 1850, 3pf Brown Red on Wrapper, Michel #1c, Type 1/5 tied on original printed matter, canceled by one-circle postmark "Zittau 16 AUG 50", single rate printed matter inside the German-Austrian Post-Union, "has on the bottom and left bright margins, cut on the right side and touched at top, both cut lines are partly visible, intensive colored and seems because of the lightish paper-color very contrasty…, the print failures behind the big digit '3' are caused by using a bit dryly print-color…", asking advice of a saffron dealer, beautiful little cover just showing hinge marks when it was mounted to an oldtime collection. Firm Heintz & Kreiss, Hanau (Hesse) mailed in Zittau. 2018 Vaatz cert. incl. English translation.
Scott #1b $28,000.
Michel €35,000. Very rare and a new discovery! .
Estimate $6,000-8,000.


Realized $5,750
---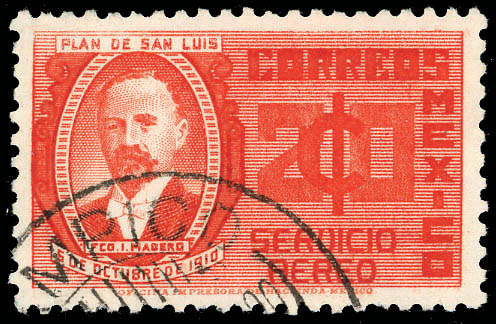 Lot 236

o

Mexico, Airmail, 1936 Madero 20c Scarlet, #C76B, portion of Tampico cancel, excellent color, Very Fine, 1977 M.E.P.S.I. cert.
Scott $12,500. Very rarely offered at auction .
Estimate $5,000-6,000.


Realized $23,000
---
Lot 394



United States, James Buchanan Exhibit, Free Franks, Abraham Lincoln, 1862, sixteenth President of the United States, while in office, double ring Washington, DC handstamp ties signature, tip of backflap repaired with small piece still missing at right, Very Fine appearance.
Estimate $4,000-4,500.


Realized $4,888
---
Lot 1016


/



U.S. Collections, Balance of Mint Bureaus to 1908 Washington Issue, n.h. to o.g. handpicked collection on attractive homemade pages, incl. imperfs, multiples incl. pl. strips of 3, many certs (some graded, most recent) incl. #220c, 258 n.h. grade 80, 259 o.g. grade 80, 265 n.h. grade 95, 267c n.h. PSAG cert. graded 85 (unpriced), 274 n.h., 275a o.g. graded 90, 278 used, 283 n.h. grade 85, Pan-Ams imprint strips of 3 complete, 311 o.g. grade 80, 315 o.g. grade 95, 320c n.h. block of 4 grade 85, many better shades incl. the 1903 to 1908 Washington series, also #320d used with no apparent Schermack coil perfs on piece (cert), also few dups, incl. inventory, overall Very Fine or better, superb collection. Another portion of a collector's advanced collection we have been auctioning over the last few years.
Estimate $14,000-18,000.


Realized $19,550
---
Lot 1600


/



Foreign Collections, Valuable Mint 20th Century Better Stock, Mostly n.h. to o.g., occasional used, priced and identified, few hundred plus sets and singles, mostly cat. $100+, incl. better Israel with tabs, Italy, Saudi Arabia with #115 block of 4, Italian Colonies, Mexico, Trieste, Greenland Polar Bears, Austria, France, Germany, all arranged in alpha order, RETAIL $65,000, very clean, excellent stock ready for immediate resale.
Scott $89,000+.
Estimate $18,000-20,000.


Realized $18,400
---
---

Harmer-Schau Auction Galleries, Inc.
1333 North McDowell Blvd., Suite B • Petaluma, California 94954
Tel: 707-778-6454 • Fax: 707-763-6772 • Toll Free 800-378-6454
E-mail: info@harmerschau.com