| | |
| --- | --- |
| | Striving to be the best, not the biggest! |
Sale 110
Lot 76

o

China (People's Republic), 1968, "The Whole Country is Red" 8F, #999A, Clear dated ? 23 1968 cancel at bottom well clear of design, one toned perf tip and tiny corner perf crease, gum still showing on reverse, well centered. A small number were sold and legitimately used during the brief time they were available for sale. Virtually all used examples are faulty to some extent.
Yang #W14.
Scott $90,000. AN EXTREMELY RARE USED EXAMPLE OF THE "WHOLE COUNTRY IS RED" STAMP, WHICH WAS QUICKLY WITHDRAWN FROM USE, The stamp features a map of China with the words "The Whole Country is Red" in Chinese. A worker, farmer and soldier are also depicted, holding copies of the book Quotations from Chairman Mao. The face value is 8 fen, which was equivalent to one U.S. cent .
Estimate $30,000-40,000.


Realized $46,000
---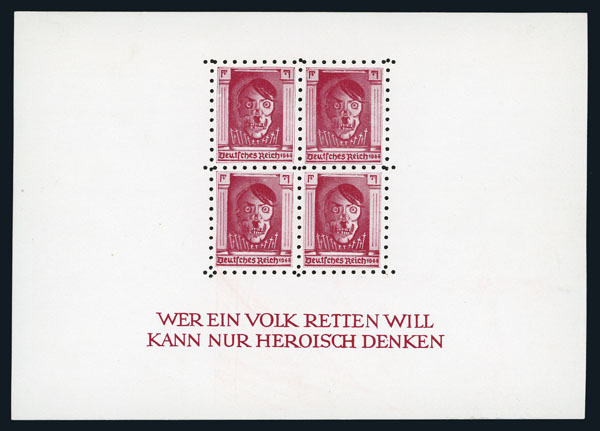 Lot 257



Germany; World War II Propaganda Issues, 1944 American Forgery OSS Souvenir Sheet, Michel #Block #1a, o.g., tiny inclusion at left and small indentation at right, per cert. "am linken blattrand weist das prüfstück eine kleine herstellungsbedingte papierpore auf (kein mangel). Am rechten blockrand weist das prufstuck eine Druckstelle auf. Ansonsten ist die qualitat einwandfrei", overall Very Fine, signed Dub, Pickenpack, Pieles (2016) cert.
Michel €32,000. Extremely rare, 15 KNOWN .
Estimate $15,000-20,000.


Realized $17,250
---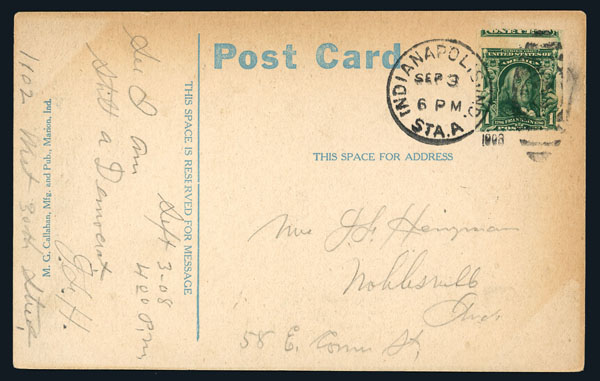 Lot 1048



U.S.; Private Vending Coil, Parkhurst Company; 1906, 1¢ Blue Green, Vertical Coil on Unique Cover, #314V, Per certificate, "Parkhurst coil single, Indianapolis in 1908 ("SEP 3 6 PM STA. A") Duplex Cancel on Picture Post Card. …It is a Genuine Usage, With Four Tiny Indentations At The bottom Of The Stamp Made By The 'Pin Perforations' Of The Parkhurst Vending Machine.", it is also docketed in pencil at left "Sept 3-08 4:00 P.M.", noting "Still a Democrat," addressed to Noblesville, Ind. The vending perforation holes can be distinctly seen both at top and bottom. Layton Parkhurst invented the Parkhurst Stamp-Vending Machine in early 1908 in Indianapolis. Parkhurst entered the 1907 Post Office Department (POD) competition to manufacture a practical stamp vending machine to sell postage stamps at post offices after regular business hours. His application was accepted. PF (2015) cert. In February 1908 the POD instructed the Bureau of Engraving and Printing to manufacture and ship vertically coiled, perforated 1¢, 2¢, and 5¢ stamps to the Parkhurst Company, which was done. Those rare government coils were dispensed and properly used, but the pasted joins were so irregular that they caused his vending machine mechanism to jam. Only one or two covers mailed at Indianapolis in 1908 have survived. To solve that problem, Parkhurst built and patented his own stripping machine, with which he manufactured his own coils, both perforated and imperforate, from imperforate sheets supplied by the POD. The stamp on this card is a rare imperforate 1¢ coil stamp dispensed by a Parkhurst vending machine and a unique usage of the Scott #314V. There are a few subsequent Washington-Franklin coils on cover with Parkhurst vending machine marks, but this is the earliest example of a GOVERNMENT issued stamp dispensed by a Parkhurst vending machine .
Estimate $12,000-15,000.


Realized $14,950
---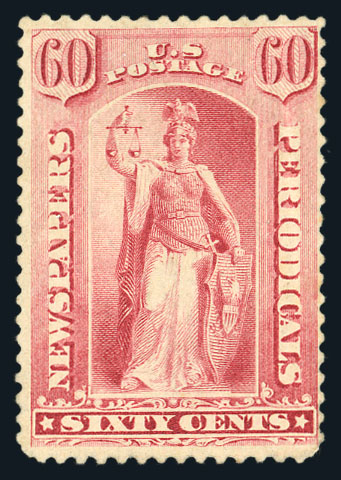 Lot 1034



U.S.; Newspaper, 1894, 60¢ Pink, #PR98, Full o.g., "vertical crease at left and tiny shallow thin top right", usual centering, decent color. Valued in the grade of fine. PSE (2016) cert.
Scott $40,000. 17 unused and 4 used per Siegel census, only two potentially sound, this copy is not in the census so 18th copy (?) .
Estimate $12,000-14,000.


Unsold
---
Lot 900




U.S.; General Issues, 1938, $5 Presidential Sheet, #834, n.h., sheet of 100 with pl. number 22166/22168F, fresh and well centered, couple of very minor perf seps. in selvage, Very Fine.
Scott $9,000 + (as pl. blocks, etc.).
Estimate $10,000-12,000.


Realized $12,650
---
Lot 247




German WWII Occupation; Occupation of Bohemia & Moravia, Poland: 1944 General Government 12gr, Michel #AP1, n.h., "Land und Leute", immaculate and Very Fine. , Vienna printing. Schweizer (2012) cert.
Michel €18,000. Very rare .
Estimate $10,000-12,000.


Unsold
---
Lot 406

(

)

Canadian Provinces; New Brunswick, 1851, 1/- Bright Red Violet, #3, unused, full margins, sound, Fine to Very Fine, Greene Foundation (2000) cert.
Scott $32,500. Nice example of this very rare mint stamp .
Estimate $6,000-8,000.


Realized $6,325
---
Lot 89

o

Croatia, German Occupation, 1945 Storm Trooper Sheet, Imperforate, Michel #8U, Used, with Zagreb 9.1.45 cancels, immaculate, signed Marjanovit, Eichele (2008) cert.
Scott #B76.
Michel €7,000 (mint). Extremely rare, very few known mint or used .
Estimate $6,000-8,000.


Unsold
---
Lot 246



German WWII Occupation; Occupation of Bohemia & Moravia, 1943 Heydrich Sheet, Michel #Bloch #1, l.h., usual wrinkles, Choice Very Fine.
Michel €12,000.
Estimate $5,000-7,000.


Realized $5,750
---
Lot 932





U.S.; Airpost, 1918, 6¢ Orange Sheet of 100, #C1, n.h., sheet of 100 with arrow selvage at left and arrow and pl. no. 9155 at top, vibrant color, Fine to Very Fine.
Scott $12,280+.
Estimate $5,000-6,000.


Realized $6,038
---
---

Harmer-Schau Auction Galleries, Inc.
1333 North McDowell Blvd., Suite B • Petaluma, California 94954
Tel: 707-778-6454 • Fax: 707-763-6772 • Toll Free 800-378-6454
E-mail: info@harmerschau.com