| | |
| --- | --- |
| | Striving to be the best, not the biggest! |
Sale 108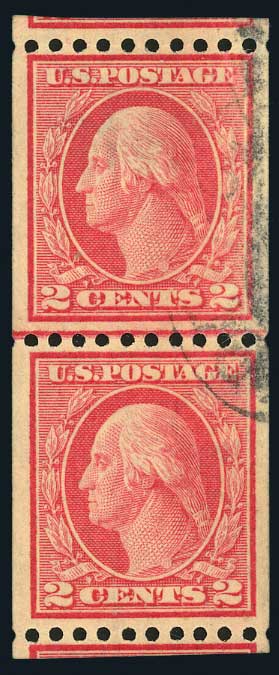 Lot 574

o

U.S.; General Issues, 1915, 2¢ Red, Type I, Rotary Coil, Line Pair, #449, lightly canc'd., very balanced wide margins at left and right and intact perfs with portions of adjoining stamps at top and bottom, very fresh color and paper, Grade 75 immaculate and Very Fine. Ex Ward, a grade 85 pair (the only pair graded until now) realized $34,500 in the 2012 "Grace" auction which states "only confirmed sound and centered copy", the copy in this auction is not as well centered but has a much lighter cancellation then the somewhat heavily canceled "Grace" pair. PF (2015), PF (1988) certs.
Scott $25,000. Census of #449 used joint line pairs (This is #449-CAN-LP-08), records a total of ten plus one in a strip of four. Of these at least six have faults leaving only 5 pairs (only 3 incl. this one confirmed as sound recently by certifying committees) .
Estimate $16,000-20,000

The 2¢ Type I rotary plate was used very briefly to make vertical coils issued in late 1915. It was briefly used because the Type I plate was not very deeply engraved and the curvature of the rotary press yielded impressions lacking in some of the details. The Bureau noticed this immediately, and quickly replaced it with Type III plate (according to Scott, the EDU for No. 449 is Oct. 29, 1915, and the EDU for Type III is Dec. 10, 1915).


Realized $23,000
---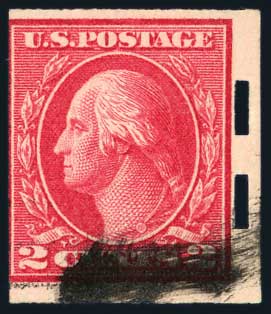 Lot 585

o

U.S.; General Issues, 1920, 2¢ Deep Rose, Type Ia, Imperf, #482A, used, centered left, PSAG states "small shallow thin at upper right and small corner crease at lower left", PF states "light shallow thins", showing complete intact Schermack perfs at right, excellent color, Fine to Very Fine for this. Not seen on the market in decades, Census #Can-23. PF (1984), PSAG (2015) certs.
Scott $65,000. Records indicate three covers, one unused single, a used pair and 37 used singles for a total of 43 stamps. Most examples are either cut well into the design or have the Schermack perfs trimmed away on one side .
Estimate $15,000-18,000

Scott 482A, like its more famous predecessor, Scott 314A, was issued imperforate by the Bureau of Engraving and Printing and sold to the Schermack Company for use in its patented stamp-affixing machines. The Schermack "Sealer and Stamper" machine typically applied stamps one at a time, and, in most cases, the hyphen-hole perfs on one side would be cut off. Unlike Scott 314A, the release of imperforate sheets printed from the experimental Type Ia plates escaped the notice of contemporary collectors, and, therefore, this stamp has a very small survival rate.


Realized $19,550
---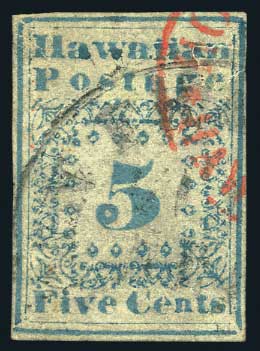 Lot 946

o

Hawaii, 1851-52, 5¢ Blue "Missionary", #2, red cds Honolulu and black cds, clear margins all round, "repaired corner faults at upper right and minor paper wrinkles", handsome Very Fine appearance. Census 2-11-CAN-37, ex Ishikawa, Harris. PSAG (2015) cert.
Scott $35,000. 39 used copies exist, "values are for examples with minor damage that has been skillfully repaired" .
Estimate $15,000-20,000.


Realized $28,750
---
Lot 450



U.S.; General Issues, 1870, 90¢ Carmine, H. Grill, #144, full o.g., sharp impression, grills very pronounced, very attractive color, intact perfs, Fine to Very Fine and rare. Not seen on the market for many years. PF (1996), PSAG (2015) cert.
Scott $25,000. Possibly the nicest sound copy ever offered with absolutely full gum; Considering original gum examples of the H Grill stamps only, after the extremely rare 12c and non-existent 24c, the 90c is the rarest of the 1870 National grilled issue .
Estimate $10,000-12,000.


Realized $10,925
---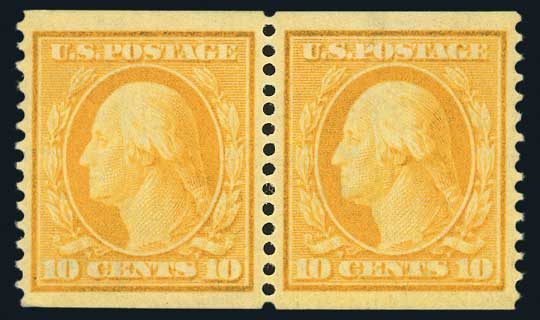 Lot 549



U.S.; General Issues, 1909, 10¢ Yellow Coil, Pair, #356, lightly hinged, huge top and bottom margins of essentially equal size, virtually perfectly centered between perfs, magnificent golden color which is characteristic for this coil, right copy could possibly grade Superb 98., Grade 95 Extremely Fine to Superb. Realized $8500 hammer in 2008 auction, the last time it was offered. PSE (2008), PF (1989) certs.
Scott Stamp Values $13,000, only pair GRADED THIS HIGH .
Estimate $6,000-8,000.


Realized $13,800
---
Lot 750




U.S.; Airpost, 1930 Graf Zeppelin Set, Complete on F.D., #C13-C15, dated with Washington, D.C. Apr 19 1930 postmark and addressed to "Honorable Victor S.D. Houston, M.C." with Congress of the United States House of Representatives corner card, lightly cleaned, otherwise Fine to Very Fine. Delegate from the Territory of Hawaii.
Scott $10,000. Likely only known Congress corner card with FD cancel .
Estimate $6,000-8,000.


Unsold
---
Lot 228

o

India, 1852, Scinde Dawk, ½a Blue, SG #S2, "96" cancel, large margins around, light vert. crease, Fine to Very Fine, verified as genuine.
Scott #A2 $8,000.
SG £9,500.
Estimate $3,000-3,500.


Realized $7,188
---
Lot 692



U.S.; Dorothy Knapp Handpainted Cover, 1950, 3¢ Boy Scouts F.D., #995, Valley Forge, PA Jun 30 1950 cancel, lovely multicolor cachet, great topic, Fine to Very Fine.
Estimate $1,600-1,800.


Realized $1,495
---
Lot 890



Guam, Regular Issue Postal History, 1899, 50¢, $1, Type I to Washington, #11, 12, tied by magenta "Guam Isl, Guam 1905" Jun 10 reg. postmark at left, grid duplex postmark, reg. to Washington, rare, a Very Fine cover. Zug correspondence. PF (1981-copy, 1998) certs. Realized $2800 in 1985 rarity sale .
Estimate $1,500-2,000.


Realized $1,438
---
Lot 164





Tripolitania, Airpost Semi- Postal Official, 1934 25L+2L "Servizio Di Stato" Overprint, Sassone #1, n.h., Very Fine, Raybaudi (2015) cert.
Scott #CBO1 $4,850.
Sassone €6,500.
Estimate $1,200-1,400.


Realized $2,070
---
---

Harmer-Schau Auction Galleries, Inc.
1333 North McDowell Blvd., Suite B • Petaluma, California 94954
Tel: 707-778-6454 • Fax: 707-763-6772 • Toll Free 800-378-6454
E-mail: info@harmerschau.com