| | |
| --- | --- |
| | Striving to be the best, not the biggest! |
Sale 117
Lot 922




U.S.; General Issues, 1917, 5¢ Carmine Error, Imperf, #485, n.h., error in middle in 2¢ (#482) horizontal strip of 3, perfect gum with excellent margins all round, choice example, Grade 90 Extremely Fine and rare. During the course of production of the normal 2¢ plate No. 7942, three positions were noted to be defective. The plate was returned to the siderographer, who burnished out the three positions and mistakenly re-entered them using a transfer roll for the 5¢ stamp. The error passed unnoticed and the sheets were issued to the public Perf 10, Imperforate and Perf 11 (#467, 485 and 505). The imperforate is by far the rarest of the three. 2007 P.F. cert for block of 6, 2018 P.S.E. (graded) for strip of 3.
SMQ $19,000.
Estimate $14,000-16,000.


Realized $19,550
---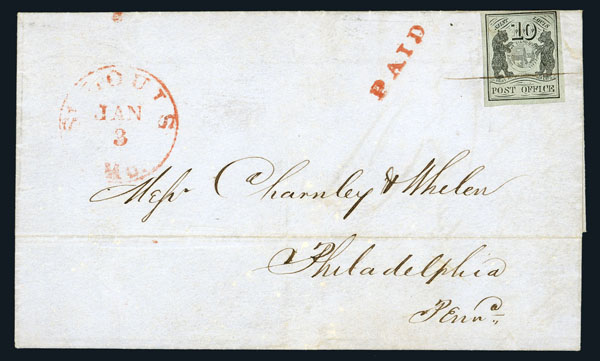 Lot 365



U.S.; Postmasters' Provisionals, St. Louis, Mo., 1845, 10¢ Black on Greenish on Cover, #11X2, good to large margins all round, pen cancelled and tied, on dated 1846 Florida to Philadelphia with red St. Louis MO postmark at left with straightline "Paid", horiz. fold, a Very Fine cover, 2005 P.F. cert.
Scott $14,000.
Estimate $12,500-15,000.


Unsold
---
Lot 1129

o

U.S.; Revenues, Documentary, 1871, Second Issue, $200 Red, Blue & Black, #R132, neat "Jany. 29 1871" mostly face free manuscript cancel, brilliant color, Grade 98 Extremely Fine to Superb our research shows that this is the highest grade copy extant. Pictured on published front cover of SMQ Price List. 2016 P.S.E. cert.
Scott $9,000 not graded. Only 446 of the small "Persian Rug" were issued, most examples have faults to varying degrees, sound copies are extremely rare, Ex Weill .
Estimate $12,000-15,000.


Realized $13,225
---
Lot 593

P

U.S.; General Issues, 1869 15¢-90¢, Complete Set, Centers Inverted, Plate Proofs on Card, #120aP4-129aP4, fresh bright colors, strong proof impressions and nice balanced margins, a premium quality set, Very Fine to Extremely Fine very popular. All known examples of these invert proofs come from the sheet in the Earl of Crawford collection, only 100 printed.
Scott $11,000.
Estimate $8,000-9,000.


Realized $8,625
---
Lot 925




U.S.; General Issues, 1917, 1¢ Green, Perf 10 At Bottom, #498g, n.h., fresh with deep color, Fine to Very Fine and rare, 2015 P.S.E. cert.
Scott $27,500. One of the rarest of the Perf 10 Varieties, a desirable Washington-Franklin item .
Estimate $8,000-10,000.


Realized $6,900
---
Lot 641

o

U.S.; General Issues, 1869, 90¢ Carmine & Black, #122, light, unobtrusive cancel, a spectacular jumbo example, Grade 95J Extremely Fine to Superb, 2010 P.S.E. cert.
SMQ $9,000 for 95, 1 other known same grade, 1 graded higher .
Estimate $6,000-7,000.


Realized $13,225
---
Lot 183



Great Britain, 1840, 1d, Plate 11 on 1841 Cover, S.G. Spec. #AS72vb, IL, 3 large to huge margins to just on the frame at top, tied by a black Maltese Cross to a "27. Ap 1841" entire from Ringwood, Hampshire, to London with red London 28.AP.41 receiver, "small tear at top left corner", seal on reverse, Fine to Very Fine, 2018 P.T.S. cert.
Scott #1. SG #2.
S.G. Spec. £16,000. Previously unrecorded, approximately 180 plate 11 covers exist, very rare and desirable .
Estimate $5,000-7,000.


Realized $7,475
---
Lot 822




U.S.; General Issues, 1903, $1 Black, #311, n.h., beautifully centered with rich colors, Grade 95 an Extremely Fine gem, 2008 P.S.E. cert.
SMQ $8,500, 9 other example known Grade 95, and only 3 higher .
Estimate $5,000-6,000.


Realized $6,613
---
Lot 548

P

U.S.; General Issues, 1861, 3¢ Scarlet, Trial Color Proof on Stamp Paper, Perfed, #74TC6, small part o.g., 4 pen strokes that do not break the paper which is common to this issue, very well centered and excellent color, Very Fine and attractive, 1991, 2002 P.F. certs.
Scott $5,500.
Estimate $4,250-4,500.


Realized $5,463
---
Lot 1363

o

U.S. Revenue Collections, Intact Match & Medicine Collection, very thorough collection mounted on Aldrich pages, with items cat. $2,000+, incl. complete inventory with Match cat. $38,000; Medicine $60,000; Perfume $6400, and Playing Cards $1,500, a few certs, usual condition for this popular area, also incl. literature related to this field, excellent collection for expansion. Ex Gregory Klemm collection, original cost $66,000+.
Scott $106,000 (Owner's).
Estimate $25,000-30,000.


Realized $40,250
---
---

Harmer-Schau Auction Galleries, Inc.
1333 North McDowell Blvd., Suite B • Petaluma, California 94954
Tel: 707-778-6454 • Fax: 707-763-6772 • Toll Free 800-378-6454
E-mail: info@harmerschau.com